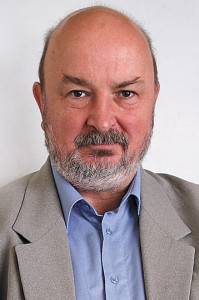 Welcome Bridge Players! I'm Krzysztof Martens, the author of Martens Bridge University Master's Program.
There are many books and courses out there that can walk you through bridge basics all the way to advanced level. But there are relatively few materials that can help you improve your skills past that point and help you become an expert.
Many times in my trainers career I have seen too great expectations of many players. They were anxious to jump from advanced to the expert level in short time.
It's not an easy work. The secret lays in collecting many small achievements in all fields of bridge play. Very few succeeded walking this path alone. On the way to mastery you have to make many small steps, analyse hundreds of hands, constantly challenge your bridge intellect. But you need to do it smart. Prepare yourself for an interesting and demending journey, yet not without the map.
On the grounds of the long experience as a player and as a trainer I have written a series of books helping advanced players to become experts. I wanted to channel the energy of players in the right direction. It`s more than enough to assume that I`m able to anticipate and address your training needs thanks to many years of listening to the various demands and concerns of my students. I have written down all their remarks and questions very carefully.
My books are not easy to read, like most of the others. They have to be worked over very rigorously, they force you to analyse. In some cases, they also organise and structure your knowledge.
Being an expert is not something you get and than your job is done. It's a process, meaning constant development of your skills and knowledge. It's also an attitude, a state of mind. It's all very rewarding and worth the effort. I wish you all a fruitful training.

 ACHIEVEMENTS
As a Player:
2016 Zagreb 15th European Bridge Champions Cup – 1st place, Monaco Team
2016 Poland Wroclaw Silver Medal (World Bridge Games – Olympiad) – Monaco Team.
2016 Gold Medal (Monaco Winter Games – Monaco Team)
2015 Chennai, India Gold Medal (Transnational Open Teams – Zimmermann Team)
2009 – San Remo Silver Medal (European Open Championships)
2008 – Pekin 4-th place (World Mind Sport Game)
2007 –  Shanghai (World Teams Championships – Member of Polish National Team)
2005 – Estoril (World Teams Championships – Member of Polish National Team) 
2002 – Paris Bronze Medal (Bermuda Bowl)
2001 – Tenerife Bronze Medal (Team European Championships)
1998 – Lille 5-th Place (World Pairs Championship)
1997 – Hammamet Gold Medal (Transnational World Teams Championships)
1996 – Rhodos (Bridge Olympic Games – Member of Polish National Team)
1993 – Menton Gold Medal (Team European Championships)
1991 – Yokohama Silver Medal (Bermuda Bowl)
1991 – Killarney Bronze Medal (Team European Championships)
1989 – Perth Bronze Medal (Bermuda Bowl)
1989 – Turku Gold Medal (Team European Championships)
1988 – Venice (Bridge Olympic Games – Member of National Team)
1984 – Seattle Gold Medal (Bridge Olympic Games – Member of National Team)
1984 – Malmö as a member of Czarni Słupsk team Gold Medal (Europe Cup)
1981 – Birmingham Gold Medal (Team European Championships)
1981 – New York Bronze Medal (Bermuda Bowl)
1980 – Valkenburg (Bridge Olympic Games – Member of National Team)

 As a Trainer and a Coach:
Since 2016 Consultant of National Team of Ireland
Since 2011 Coach of Monaco National Team
2012 Coach of French National Team
2009 Coach of Greece National Team
2008 Coach 0f Cyprus National Team
2005 Trainer of Russian National Team
2004 Coach of Turkey National Team
2003 Trainer of Dutch National Team
2002 Coach of Lebanon National Team
2000 Trainer and coach of Germany Ladies Team for Bridge Olympic Games in Maastricht – Bronze Medal
1999 Trainer and coach of Lebanon National Team for European Championship on Malta
1999 Training consultations for Ladies an Open teams of Indonesia
1997-2000 Lectures and trainings for National Teams of Syria, Jordan and Lebanon
1998 Training consultations for Juniors, Ladies and Open Teams of Austria
1997 Training consultations for Ladies Team of Germany
1997-99 Trainer – Ladies team of Holland (The team won World Championship Bermuda 2000! )
1997 Consultant of Open Team of Holland
1992-95 Coach of Juniors, Ladies and Open Teams of Israel